Please sign in to contact the vendor
FAME_UROCRUSH_ဆီးကျောက်ပျော်ဆေး_Stones relief
အပြင်မထွက်ရလို့ လှုပ်ရှားနည်းပြီး အထိုင်များလို့ပဲဖြစ်ဖြစ်

အစားအသောက်မှားလို့ ပဲဖြစ်ဖြစ်
ရေသောက်နည်းလို့ပဲဖြစ်ဖြစ် ကျောက်တည် နိုင်ပါတယ်
UROCRUSH သည် ကျောက်တည်စေသည့် Calcium, Phosphate နှင့် Uric Acid များကို ပျော်ဝင်စေခြင်းဖြင့် ဆီးကျောက်တည်ခြင်းကို သက်သာပျောက်ကင်းစေနိုင်ပါတယ်

သုံးစွဲရန်

======
၁၂ နှင့် အထက် -
ကုသရန် - တစ်ခါသောက် ၂ တောင့်၊ တစ်နေ့ ၃ ကြိမ် အစာမစားခင် နာရီဝက်အလို ရေများများနှင့် သောက်သုံးပေးရန်
ကာကွယ်ရန် - မနက်အိပ်ယာထ ၁ တောင့် နေ့စဉ် ရေများများနှင့် သောက်သုံးပေးရန်
တစ်ဘူး ဈေးနှုန်း (ဆေးတောင့် ၆၀) ~ Ks 5000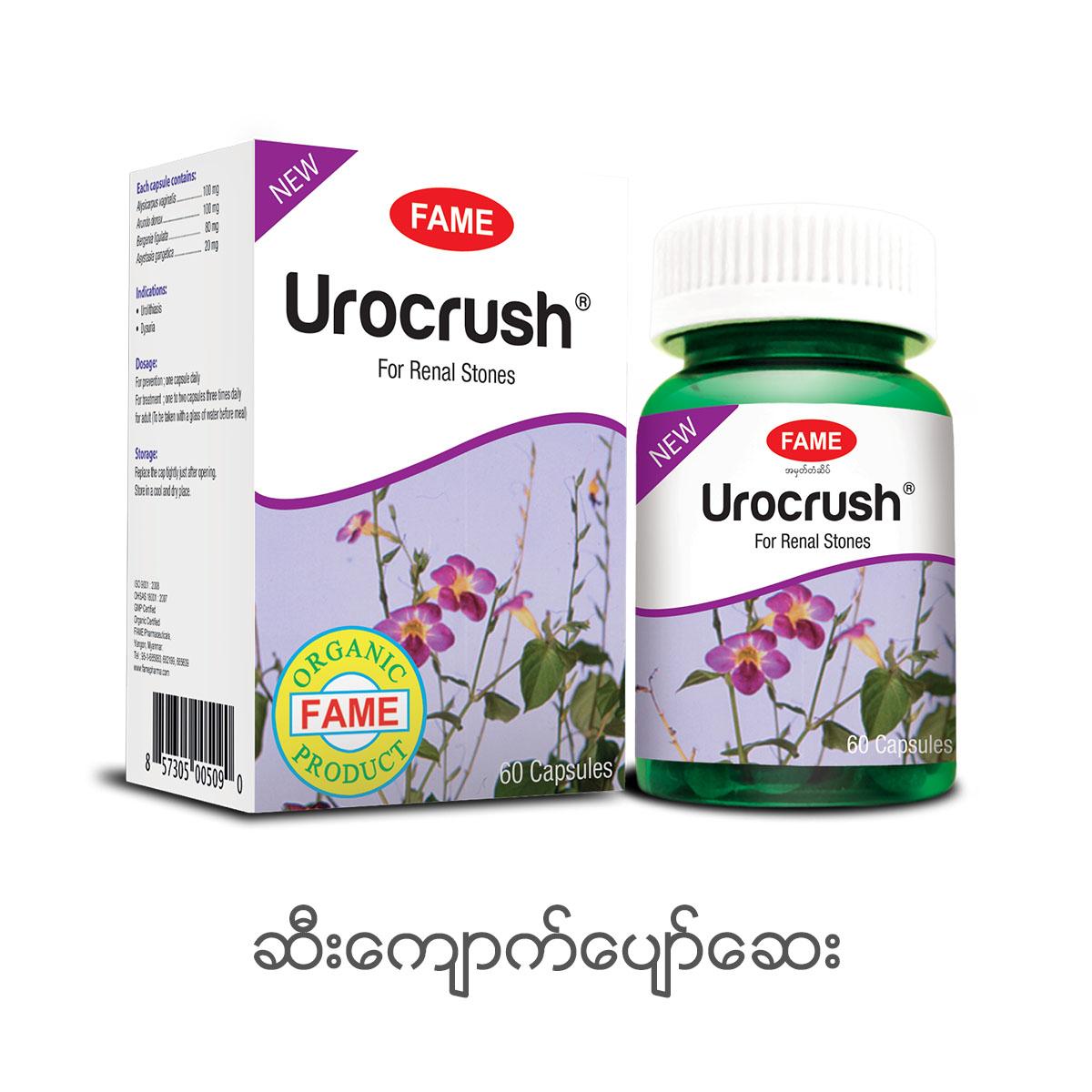 FAME_Urocrush_Stones relief

COMPOSITION:
Each capsule contains
Alysicarpus vaginalis ....... 100 mg
Arundo donax ........... 100 mg
Bergina ligulata .......... 100 mg
Asystasia gangetica ....... 20 mg
PHARMACOLOGICAL ACTIONS:
Urocrush® is very effective in supporting the functions of the kidneys and urinary tract by:
Controlling the urinary composition
Maintaining crystalloid-colloid balance
Strengthening the mucosal integrity
Reducing the susceptibility of calcium salts of oxalic or uric acid to develop calculi
Preventing the development of various forms of calculi
Increasing urine output and eliminating the urinary sediments
By taking the Urocrush® in case of urinary calculi, the stone will transform into colloidal form and finally dissolved in the urine and flushed out. Therefore, Urocrush® can bring about significant improvement in the quality of life.
INDICATIONS:
Urolithiasis
Dysuria
DOSAGE: (Adult)
For prevention - one capsule daily
For treatment - one to two capsules three times daily
(To be taken with a glass of water before meal)
SIDE EFFECTS:
Mild hypotension in some individuals
DRUG INTERACTION:
As Urocrush® has synergistic diuretic action with other oral diuretic agents, dose adjustment of such drugs is needed when use together with Urocrush®.
QUANTITY SUPPLIED:
60 capsules per bottle
A/U: 60's
We deliver within Myanmar